Taso:

4
Limiitit:

150/300
Antet:

0
...literally and figuratively.
When you late register an event at the World Series of Poker, you shouldn't be surprised if you see a couple of friendly faces. Well, over on Table 414, there are eight players with impressive, and extensive résumés.
Table 414

| | |
| --- | --- |
| Seat 1 | Theo Tran |
| Seat 2 | Unknown |
| Seat 3 | Vladimir Shchemelev |
| Seat 4 | Unknown |
| Seat 5 | Joe Serock |
| Seat 6 | Dan Heimiller |
| Seat 7 | Christian Harder |
| Seat 8 | "Crazy" Mike Thorpe |
| Seat 9 | Hayden Fortini |
| Seat 10 | George Lind III |
The table has amassed nearly $12 million in career live tournament earnings, but the only bracelet winner is Heimiller. What makes the table literally crazy? Well, "Crazy" Mike of course.
"I wish I was famous," we heard Thorpe say. "Like Jason Mercier."
"I've seen you before," Serock added. " I know you."
A few minutes later, a waiter handed him two cups of Pepsi.
"Have you guys every double-fisted Pepsi?" Thorpe announced, then lifted both cups up to his mouth to drink.
We'll keep an eye on the "Crazy" Mike show throughout the night, and let you know if he says more outlandish things.
"Security to Table 357!" we heard a player yell moments ago.
Quickly, we grabbed our things and began to move towards the table, only to realize that they didn't need security - they just wanted the security guard to stop standing in front of the television. Yes, it's that time of the night where almost all eyes are on the wide screen TV's that surround the Amazon Room, because a basketball game is in the fourth quarter.
The Boston Celtics are currently up one against the Miami Heat, and whether they have money on it or not, there are hundreds of players sweating the result.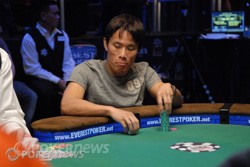 After busting in 27th place in Event 11: $1,500 Pot-Limit Omaha ($8,014), Terrence Chan has made his way over to the Tan Section of the Amazon Room to play here in Event 13: $1,500 Limit Hold'em. Chan is a very good limit hold'em player he's cashed in the limit hold'em shootout three out of the last five years, he's cashed in the $10,000 Limit Hold'em World Championship, and in 2010 he finished third in this event.
Overall, Chan has nearly $1 million in career live tournament earnings, but more importantly, he could probably take your head off.
Late registration is open through the next break. Here are some of our newcomers thus far.
When we reached Joseph Cheong's table, he was in a pot with two opponents, and the flop was



. The action checked to Cheong, who bet, and both opponents called. The turn was another five - the

- and the action checked to Cheong who bet again. This time, only one player called.
The

completed the board, and Cheong fired one last barrel. His opponent called, and Cheong confidently turned over


.
"It's good," his opponent muttered.
The next hand, three bets went in preflop, and Cheong was heads up with the player on his direct right. The dealer fanned



, and Cheong's opponent led out. Cheong raised, his opponent put in a third bet, and Cheong called. The turn was the

, and Cheong's opponent led again. Cheong raised, and his opponent just called.
The

completed the board, and for the first time, Cheong's opponent checked. Cheong tossed out a bet, and his opponent called. Cheong rolled over


for nines and sixes, and his opponent flashed


before mucking.
Taso:

3
Limiitit:

100/200
Antet:

0
The players are on their first break of the night.