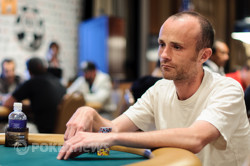 We found this hand developing on the turn between Todd Terry and Thijmen Stocker. The board showed




, Stocker bet 9,000 and Terry called. The river fell

, Stocker checked and Terry bet 25,000. Stocker check-raised to 65,000 and Terry shook his in visible shock.
"I can't believe you'd be bad enough to do that with kings," Terry said after a few moments. Terry sank deep in to the tank and after a full two minutes he prodded, "Second nut no good here, huh?"
Stocker didn't reply and Terry continued to tank. He counted his stack, double checked his cards and sighed. Terry sat there a little while longer and then folded


face up. That's right, he folded aces full of jacks face up, giving Stocker tons of credit.