Event 23: $3,000 No-Limit Hold'em - Six-Handed
Päivä 2 suoritettu loppuun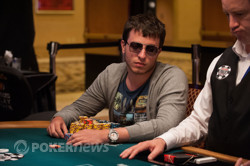 Aaaand just like that – another action-packed day of six-handed No Limit Hold'em is in the books. Out of the original 141 who began Day 2 in hopes of landing a World Series of Poker gold bracelet – only 18 will return for a third and final Day 3. Artem Metalidi will come into tomorrow as chip leader with a monstrous 1,523,000 stack. Behind him is the only other player to break a milly during Day 2, Luis Rodriguez, who bagged up 1,005,000.
As is always true in poker, where there are winners, there must be losers. Among those who didn't survive into Day 3 include Jason Mercier, David Benyamine, Dan O'Brien, Galen Hall, Liv Boeree, Will Failla, Brad Booth and Gavin Smith. William Reynolds also fell by the wayside, but in notably brutal fashion as he was outdone by one of No Limit Hold'em's prominent cooler situations.
As noted, our remaining players will be chasing after Artem Metalidi, who found himself with a massive chip late into Day 2 after winning a couple of key pots. There is still plenty of notable talent still in contention, however, including bracelet winner and 2008 November Niner Scott Montgomery, World Poker Tour champion and bracelet-winner Eugene Katchalov, online tournament phenom Andrew Lichtenberger and Bertrand "ElkY" Grospellier – whose live tournament earnings exceed $8,400,000.
Here are the final chip counts going into tomorrow:

| Player | Chip Count |
| --- | --- |
| Artem Metalidi | 1,523,000 |
| Luis Rodriguez Cruz | 1,005,000 |
| Foster Hays | 679,000 |
| Joseph Urgo | 572,000 |
| Damien Lhommeau | 511,000 |
| Bertrand Grospellier | 487,000 |
| Freddy Deeb | 425,000 |
| Taylor Paur | 424,000 |
| Simon Charette | 405,000 |
| Eddie Blumenthal | 395,000 |
| Craig Bergeron | 375,000 |
| Scott Montgomery | 288,000 |
| Thiago Nishijima | 272,000 |
| Andrew Lichtenberger | 246,000 |
| Alexander Nudin | 245,000 |
| Toan Trinh | 224,000 |
| Ryan Fair | 199,000 |
| Eugene Katchalov | 84,000 |
Join us here tomorrow at 1:00 PM local time as our final 18 combatants return to battle down to an eventual champion. Until then, we wish you a good night!
Scott Montgomery has just doubled up Toan Trinh. He raised to 17,000 and Trinh moved all-in from the small blind for 121,000. Montgomery called holding


and Trinh turned over


. The board ran out





and Trinh won the pot.
Andy Lichtenberger raised to 16,000 on the button, Scott Montgomery moved all-in from the small blind and Lichtenberger folded.
Eugene Katchalov moved all-in and nobody took up his offer.
Simon Charette got two streets of value from Foster Hays betting on a




board. Charette moved up to 405,000 and Hays dropped to 500,000.
Bertrand "ElkY" Grospellier raised on the button, Andy Lichtenberger three bet to 39,000 from the big blind and ElkY forced him down with a 77,000 four bet.
Thiago Nishijima raised to 18,000 in first position and Craig Bergeron closed him out of the action with a 56,000 three-bet from the button.
Ryan Fair got it all-in with the short-stack Scott Montgomery. Montgomery was ahead with


versus the


of Fair and it stayed that way. Montgomery moved up to 300,000 and Fair was reduced to 180,000.
Taylor Paur gained some chips from Foster Hays. Hays raised from under the gun and Paur called in the hijack. The board ran out





and Paur won 45,000 chips after calling a c-bet on the flop; his river bet of 60,000 was not taken up by Hays.
Eugene Katchalov moved all-in and everyone folded and then Alexander Nudin moved all-in from the small blind and Katchalov folded.
Last but not least our chip leader Artem Metalidi won a juicy pot from Toan Trinh. We joined the action on a flop of



in a three-bet pot. Metalidi check-calling a 20,000 Trinh flop bet. The turn was the

and both players checked before the

popped up on the river. Metalidi bet 38,000, Trinh called and Metalidi won the pot with

for two pair. The disappointed Trinh showing


.
| | | | | | |
| --- | --- | --- | --- | --- | --- |
| Artem Metalidi | | | | 1,500,000 | 100,000 |
| Foster Hays | | | | 450,000 | -140,000 |
| Simon Charette | | | | 405,000 | 55,000 |
| Scott Montgomery | | | | 300,000 | 183,000 |
| Toan Trinh | | | | 260,000 | -170,000 |
| Ryan Fair | | | | 180,000 | -165,000 |
Players took a very small break to relocate after redrawing to the final three tables. The clock has resumed and we have just 47 minutes until play will end for the day.
Shortly after Scott Montgomery lost a huge pot when his flush lost out to a higher flush, we noticed this from Montgomery's Twitter feed.
scotmont Scott Montgomery Then lost another 100 k. KK < A6o. 117k. 20 left June 13 2012
The action folded around to Bertrand "ElkY" Grospellier in the small blind and he made up the additional juice whilst Freddy Deeb checked. The flop was



and ElkY bet 10,000. Deeb quickly raised to 25,000 and ElkY just called. That was the end of the action as both players checked down the

and

and ElkY won the pot with


.
"You are lucky a deuce didn't come on the turn," said Deeb.
"Why we would have chopped. I had ace-three," said ElkY.
"But I had six-three," said Deeb.
"Oh sh&t," said ElkY.
We caught up with the action just as a huge pile of chips were being passed on to Simon Charette. It appeared that Charette and Eugene Katchalov had gotten into a preflop raising war with Charette getting all in for his last 173,000 against Katchalov, who had him covered.
Katchalov:



Charette:


The





board did not improve Katchalov's hand and Charette doubled through.
Charette is back up to 300,000 while Katchalov is down to his last 90,000.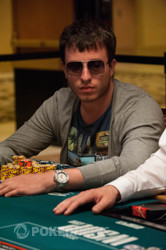 Artem Metalidi has his shades on whilst he quietly fingers away at his iPad. Just inches away from his body rests a perfect sandcastle stack containing 1.4 million chips. Yes…that was not a typo… he has 1.4 million chips. So how the hell did he manage to accrue such a chip stack?
Well in the not too distant past there was a chip leader called Scott Horowitz and he occupied the two seat at the Metalidi table. Horowitz went a little bit crazy in a hand with Metalidi that went a little bit like this:
Metalidi found


in the hijack and he raised to 12,000. Horowitz was seated on the button and he three-bet to 32,000 holding


. Metalidi - with all the confidence that aces gives you - popped it back up to 67,000 and Horowitz called. The flop was



(two spades), Metalidi bet 75,000 and Horowitz moved all-in for around 250,000 and Metalidi called.
That left a vacant spot at the table and it was taken by the confident looking Scott Montgomery. He really did have a swagger about him that now just looks like an ice cold stare of anger and disbelief. That stare is borne out of the fact that he has just shipped the majority of his stack to Metalidi baby flush over baby flush. We didn't catch the action but the board was showing





, Montgomery had made a big bet on the river for a couple of hundred thousand holding a

high flush and the pot was won by Metalidi holding a
high flush.
Taso:

20
Blindit:

4,000/8,000
Antet:

1,000