Event 27: $1,500 H.O.R.S.E.
Päivä 3 suoritettu loppuun
The three gentlemen have decided to bag it up and come back tomorrow afternoon at 1:00 PM to play it out for the bracelet. We've got plenty to tell you about from this $1,500 H.O.R.S.E. event, but we'll save the full summary for tomorrow. Suffice it to say it was quite a day of poker.
When the players return tomorrow, they'll stack up as counted below. There's one more hand of hold'em to play, and Ylon Schwartz has the button.
We're on a 12-hour recess, and it figures to be a short finale on Saturday afternoon. But then again, we thought we'd have a winner by this time. We'll be back here inside the Pavilion, and we hope you'll join us as we finish this story here in Event #27. A champion will be crowned, we can promise you that.
Until then, all that's left is goodnight.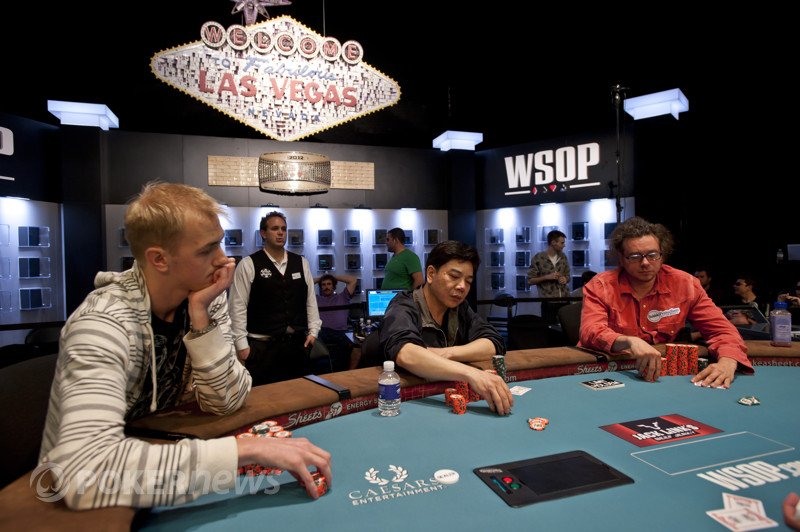 We're just five minutes away from the end of the level, and with it comes the scheduled end of our day.
But we don't have a champion yet. Right now, the players are discussing whether they'd rather bag up right here and now, or play the bonus level that the rules allow for before calling it a night.
We'll either be done in five minutes, 85 minutes, or when we crown a champion. We'll let you know the plan as soon as we hear it.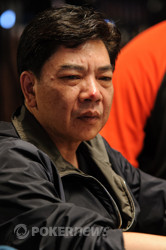 Don't look now, but David Chiu has just gone from 2 big bets to chip leader in the span of three hands, including that last double up.
The next hand was three ways in a Stud Hi/Lo, though the pot stayed pretty small. Chiu did get a raise in on sixth showing




, but the river went check-check between he and Stephen Chidwick. Chiu turned up



for two pair, and that gave him the pot.
One hand later, Chidwick completed with the

, and Chiu defended his bring-in with the

. Chidwick's pulled the

and bet fourth street, and Chiu's

was good enough for call. On fifth, Chiu pulled the

to make an open pair, and his bet quickly chased Chidwick out.
Chiu is in charge, but this match is being played at a high level with short stacks.
Stud Hi/Lo:
Ylon Schwartz completed with the

and then called a completion from David Chiu. The turn saw Chiu check and Schwartz check, while fifth brought a check-raise from Chiu for his last 240,000.
Schwartz:


/




/


Chiu:


/



/

Schwartz called to put Chiu at risk, but he was unable to improve on sixth and seventh. With that, Chiu doubled to 850,000.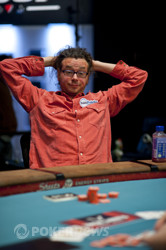 Stud Hi/Lo:
Ylon Schwartz has no intentions of losing this thing. After two consecutive doubles, he found another good spot to get his chips in, this time in the Stud/8 round.
David Chiu completed with the

, and Schwartz raised with the

. Chiu made it three bets, and Schwartz called. Off they went.
Chiu: (x-x) /




/ (x)
Schwartz: (x-x) /




/ (x)
Chiu made bets on fourth and fifth streets with Schwartz calling them both. On sixth, though, he knocked the table. Schwartz bet, but he was quickly check-raised to 320,000. Schwartz got it all in right there, and he was well behind.
Chiu: (


) /




/ (x)
Schwartz: (


) /




/ (x)
Schwartz had a pair of queens and a flush draw, and he needed to improve on his last card. He did. The

gave him two pair, and now Chiu was looking to draw for the knockout. He needed to pair any one of his six cards, but the river

was the wrong shade of paint.
Don't look now, but Schwartz is comfortably in second place now with close to 1.6 million.
Stud:
Ylon Schwartz brought-in with the

, and David Chiu completed with the

. A raising war ensued that left Schwartz all in for 330,000 total. He was behind.
Schwartz: (


) /


Chiu: (


) /

Chiu's split eights were in the lead, but Schwartz caught two pair right on fourth with the

. The fifth street cards were blanks, but Schwartz found the

on sixth to make an unbeatable full house.
He's doubled, and he's all-in again as we speak...
Stud:
A raising war between Ylon Schwartz and Stephen Chidwick resulted in the former being all in and at risk.
Schwartz:


/




/


Chidwick:


/




/

Schwartz was ahead with sixes when the chip went in, but Chidwick took the lead when he paired his jack on fifth. Things looked bleak for Schwartz, that is until the

spiked on sixth to give him trips. Chidwick was drawing to a heart on seventh, but it was not meant to be as he flipped over

.