Andy Bloch, Kevin Calenzo and Brett Richey just played a three-way pot that saw Bloch fold out on sixth street before the other two players went to the end and Calenzo won the pot.
Bloch: (x)(x) /




- fold
Calenzo: (x)(x) /




/ (x)
Richey: (x)(x) /




/ (x)
We picked up the action on fourth street and Richey checked. Bloch checked behind and then Calenzo bet. Both players called. On fifth street, Calenzo was first up with a pair of nines and bet. Both Richey and Bloch called again.
On sixth street, Calenzo checked and Richey bet. This prompted a fold from Bloch before Richey made the call. Then on seventh, Calenzo checked, Richey bet and Calenzo called.
After Calenzo called the bet on seventh, Richey grabbed his up cards, turned the face down and mucked his entire hand. Calenzo showed the



from his hole cards for nines and sevens and won the pot.
Calenzo is a regular on the poker tournament circuit, but he only has two career World Series of Poker cashes. He does hold one piece of WSOP jewelry in the form of a WSOP Circuit gold ring coming back in January when he won the Caesars Palace Las Vegas Main Event for $197,451. In total, the New York native has over $600,000 in live tournament earnings.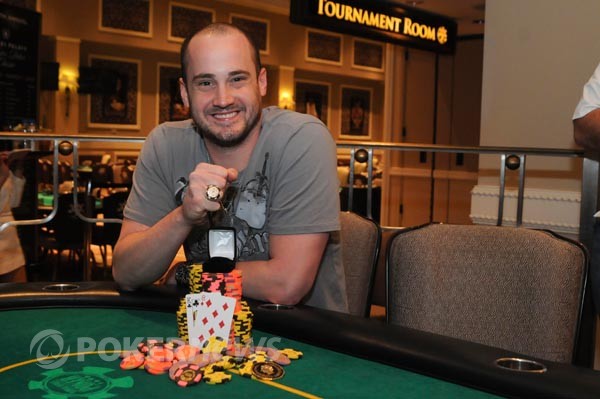 Photo: Calenzo from his WSOP Circuit victory