Event #16: $10,000 Heads-Up No-Limit Hold'em
Päivä 2 suoritettu loppuun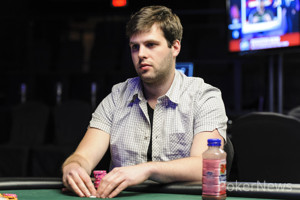 Another exciting day of heads up no-limit hold'em is in the books here in the Amazon room at the 2013 World Series of Poker. To begin the day, 32 players showed up looking to play and win three matches in order to final themselves seated in the illustrious semifinals of this unique event. In the end, though, the four to rise to the top included Justin Bonomo who will be taking on Mark Radoja in the semifinals and Ben "Sauce123" Sulsky who will battle with Don Nguyen.
Players sat down today needing to only win one more match in order to catch. Unfortunately for half of the field, that means that they would be leaving play empty handed. This exit without money happened to several notable players including Jason Mercier, AP Phahurat, Brock Parker, Ali Eslami, Justin Smith, Keven Stammen, Sam Trickett, and Sam Stein.
Following the first severing of the field, sixteen players returned for their second match of the day. Each player here was guaranteed a payday of at least $26,237 and that was all the likes of Marc-Andre Ladouceur, Melanie Weisner, Craig Bergeron, Bryan Pellegrino, Davidi Kitai, Warwick Mirzikinian, and Alexander Venovski. The final player eliminated during this round was Phil Galfond, who was engaged in the longest heads up battle of the round with online legend Sulsky. After several double ups for both players, Galfond finally got it all in before the flop holding

against Sulsky's


. Neither player connected on the board and Sulsky's king-high punched his ticket to the round of 8.
In the final round, Bonomo made quick work of Russell Rosenblum and Nguyen did the same to Sean Winter. Randy Lew was also unable to get on the winning side of hands and he eventually fell to fellow online-grinder Sulsky. The final match was between Phil Hellmuth and eventual winner Radoja. The rail grew a few spectators deep as Hellmuth's colorful table talk and demeanor grew more and more bombastic. Radoja continuously applied pressure against Hellmuth, showing several bluffs along the way. In the end, Radoja shipped all in with


and Hellmuth called off his tournament life with


. Radoja held and he locked up the final seat in the semifinals, defeating the 13-time WSOP bracelet winner in the process.
Semifinals
| Player | vs. | Player |
| --- | --- | --- |
| Ben Sulsky | - | Don Nguyen |
| Mark Radoja | - | Justin Bonomo |
Play will resume for the semifinals at 2:00 PM PST on Sunday and we will play down until the newest bracelet winner is crowned. Be sure to stay tuned to all of the live updates here on PokerNews as this exciting event reaches its conclusion!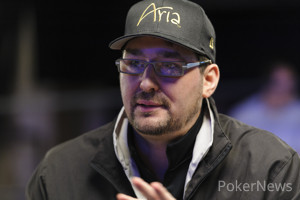 Hand #33: Mark Radoja open-shoved for effectively 310,000, and Phil Hellmuth called, putting himself at risk.
Radoja:



Hellmuth:


Radoja held as the board came





, and Hellmuth was eliminated.
"Honey he woke up with king-queen," Hellmuth called over to his wife after the hand. "You played well, though."
Radoja muttered something about getting hit in the head by the deck, and Hellmuth was off to cage to collect his $54,024.
Hand #27: Mark Radoja opened to 48,000 from the button and Phil Hellmuth called. The flop came down


and Hellmuth checked. Radoja fired 31,000 and Hellmuth came over the top by clicking it right back to 62,000. Radoja three-bet to 111,000 and a frustrated Hellmuth mucked to his cards.
"Queen-three, Phil," remarked Radoja tabling


for air. Hellmuth was left just to mutter to himself under his breath.
Hand #28: Hellmuth limped his button and Radoja checked. The two took in



and the action went check-check. Radoja fired 35,000 on the turn after the

fell and Hellmuth snapped him off.
The river was the

and Radoja announced 76,000 which Hellmuth snapped once more. Radoja showed


for nines and a dejected Hellmuth tabled

for nines with a worse kicker.
Hand #29: Radoja had the button and announced all in. Hellmuth folded.
Hand #30: Hellmuth had the button and limped. Radoja pushed him all in and Hellmuth mucked it.
Hand #31: Radoja announced all in from the button and Hellmuth folded.
Hand #32: Hellmuth limped on the button and Radoja checked. The



flop fell and both players checked. The

turned and Hellmuth check-called 30,000.
The river was the

and both players tapped the table. Hellmuth showed


for nines and took down the pot.
Hand #21: Radoja raised to 60,000 preflop, taking it down.
Hand #22: Hellmuth limped in and called Radoja's raise to 72,000, bringing on a flop of



. Both players checked, and the action repeated on the
turn. Radoja fired 32,000 when the

fell on the river, and that was enough to force a fold.
Hand #23: Another Radoja raise to 60,000 before the flop, and another fold by Hellmuth.
Hand #24: Hellmuth opened for 60,000, and Radoja moved all-in over the top. The "Poker Brat" then squeezed his cards one at a time, suggesting that he had raised in the dark.
"I'm not slowrrolling here kid," Hellmuth remarked. "If I have aces here, don't be upset."
Hellmuth then squeezed his last card, before visibly reacting to its inferior nature. A few obscenities under his breath later, and Hellmuth mucked his hand.
Hand #26: Before this hand was dealt, a friend of Radoja's on the rail asked the Canadian pro what he was drinking.
"Whiskey," Radoja replied jokingly. "Its the only thing that helps at the moment."
Perhaps his drink wasn't stiff enough, however, because Radoja folded to a raise of 100,000.
Hand #27: Hellmuth limped in and Radoja checked his option. The flop came



and Radoja check-folded to a bet of 30,000.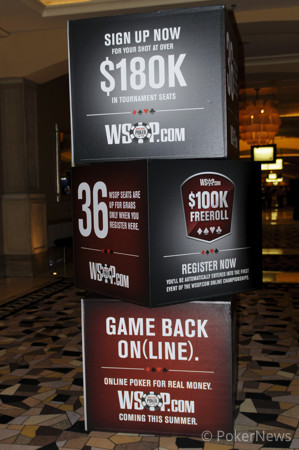 The buzz inside the walls of the Rio extends beyond just the tournaments on the 2013 World Series of Poker schedule. Online poker in Nevada is a very, very hot topic right now, and WSOP.com is making a lot of noise.
While the site has yet to launch, you can head to the Lambada Room of the Rio or look for one of the beautiful and friendly WSOP.com ladies walking the hallways to sign up for a free, personal WSOP.com online poker account. This is a great way to get a jump on the site's registration, and plenty of people have already taken this opportunity.
What's more is that the WSOP will be hosting daily raffles for everyone that has taken the time to register for WSOP.com at the Rio. What can you win? Plenty of fantastic prizes including 36 WSOP seats!
Players 21 years of age and older who sign up for a WSOP.com account will automatically be entered into the "36-Seat Giveaway" where a randomly-selected winner will win a seat into the next day's first WSOP gold bracelet event. One of the events eligible in this promotion is the $111,111 One Drop High Roller No-Limit Hold'em tournament that is expected to feature a $10,000,000 prize pool and allow you to play poker with the biggest names in the game. In total, $182,333 in WSOP seats, including a seat to the WSOP Main Event, are being given away during this one-of-a-kind WSOP.com promotion.
In addition to the 36-Seat Giveaway, a "Hot Seat" promotion will allow any player who signs up for a WSOP.com online account and wears their WSOP.com patch on their chest at the table while playing an event to be randomly selected to receive 500 bonus dollars deposited directly into their WSOP.com online account once the site has received all regulatory approvals and launches.
With 62 WSOP gold bracelet events and three winners promised for the Main Event, this promotion includes $32,000 worth of value to those participating.
Taso:

6c
Blindit:

15,000/30,000
Antet:

0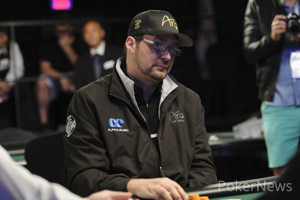 Hand #12: Phil Hellmuth folded on the button.
"I've never lost to someone who raises every button," the 13-time bracelet said.
Hand #13: Mark Radoja raised to 48,000 on the button, and Hellmuth folded.
Hand #14: Hellmuth folded on the button.
Hand #15: Radoja limped in, Hellmuth moved all in for around 450,000, and Radoja called.
Radoja:



Hellmuth:


The board came





, and Hellmuth cashed in his last lammer.
Hand #16: Hellmuth limped in on the button, Radoja checked, and the flop fell



. Radoja led out for 24,000, Hellmuth called, and the turn brought the

. Radoja led out for another 77,000, and Hellmuth folded.
Hand #17: Radoja asked Hellmuth for a count.
"You don't know?" Hellmuth snapped at him, moving his arms. "Come on go all in. I haven't looked yet."
Radoja obliged, open-shoving for effectively 272,000, and Hellmuth checked his cards. He grinned, then called.
Radoja:


Hellmuth:


The board came





, and Hellmuth doubled.
Hand #18: Hellmuth raised to 48,000, Radoja called, and then Radoja check-folded to a 25,000-chip bet on a flop of



.
Hand #19: Radoja folded his button.
Hand #20: Hellmuth raised to 60,000 on the first hand of the new level, and won the big blind.
Hand #8: Phil Hellmuth had the button. He completed and Mark Radoja moved all in. Hellmuth threw them away.
Hand #9: Radoja announced all in from the button and Hellmuth kicked them into the muck.
Hand #10: Hellmuth opened to 60,000 from the button and Radoja moved all in. Hellmuth snapped him off.
Hellmuth:



Radoja:


The board ran out





and Hellmuth was forced to ship his stack over to Radoja. Hellmuth then cashed in a lammer for 320,000 and still has one behind.
Hand #11: Radoja opened the button to 48,000 and Hellmuth called. The flop came down



and Hellmuth checked in the dark. Radoja bet 26,000 and Hellmuth stayed the course.
The turn was the

and both players checked, prompting the

to complete the board on fifth street. Hellmuth bet 50,000 and Radoja sat thinking.
"Can't get this guy to fold," remarked Hellmuth.
Radoja replied by announcing an all in bet and Hellmuth shot up in his seat, thought for a moment, and meekly moved his cards toward the muck. Radoja picked up the pot.
Hand #4: Hellmuth limped in for 24,000, and Radoja checked his option to bring a flop of


to the table. Radoja check-called a bet of 30,000, and both players tapped the table on the

turn and

river. Radoja announced "pair" and rolled over


for the winner.
Hand #5: Radoja raised to 48,000 before the flop and stole Hellmuth's blind.
Hand #6: A limped pot saw the



fall on the flop. Radoja check-raised Hellmuth's bet of 25,000, pushing a stack of green T25000 tournament chips forward, and forcing the "Poker Brat" to release. Hellmuth flashed the


while tossing his hand away, telling Radoja "that's all i'm betting with there, just the ace-jack." Radoja responded with a poker player's preferred retort, flipping over his


bluff and dragging the pot.
Hand #7: Perhaps tilted a bit from Radoja's bold bluff on the last hand, Hellmuth called a raise of 48,000 to see a flop of


. After checking the action, Hellmuth called a bet of 31,000 and the

hit the board on the turn. Hellmuth checked once again, prompting Radoja to fire a bet of 90,000 at the all-time leader in WSOP bracelets. Hellmuth elected to make the call, and the

dropped on the river. After a third check, Radoja jammed his remaining stack in the middle, and with this, Hellmuth shot out of his chair, circling the table while muttering to himself.
"He's trying to give it away," he said, before folding his cards in frustration.